On the morning of May 17, the signing and donation ceremony between Shenzhen University (SZU) and Shenzhen Jiebubao Sports Technology Co., Ltd was held in Room 201, Huiyuan building. Attending the ceremony were Li Yonghua, Vice President of SZU, Prof. Tao Yitao, Director of China Center for Special Economic Zone Research (CCSEZR) and President of Belt and Road Research Institute (BRRI) (Shenzhen) for International Cooperation and Development and Vice Chairperson, He Yanhui, Director of Alumni Liaison Department of SZU and Ms. Liang Yingyi, Founder and Chairman of EGOOOD, and her delegation. More than 30 people presented, including teachers and students of the CCSEZR, representatives of Jiebubao and media reporters.

Prof. Li Fan, Deputy Director of CCSEZR, introduced the development and history of Shenzhen Jiebubao Sports Technology Co., Ltd, and explained the purpose, significance and implementation of "Yifeng-Jiebubao Scholarship" in detail. The scholarship totaling RMB 5 million will be donated to CCSEZR of SZU, and will be used to reward outstanding undergraduate and graduate students in Theoretical Economics, encouraging and supporting the cultivation of top-notch talents.
Prof. Tao Yitao and Chairman Liang Yingyi signing the Agreement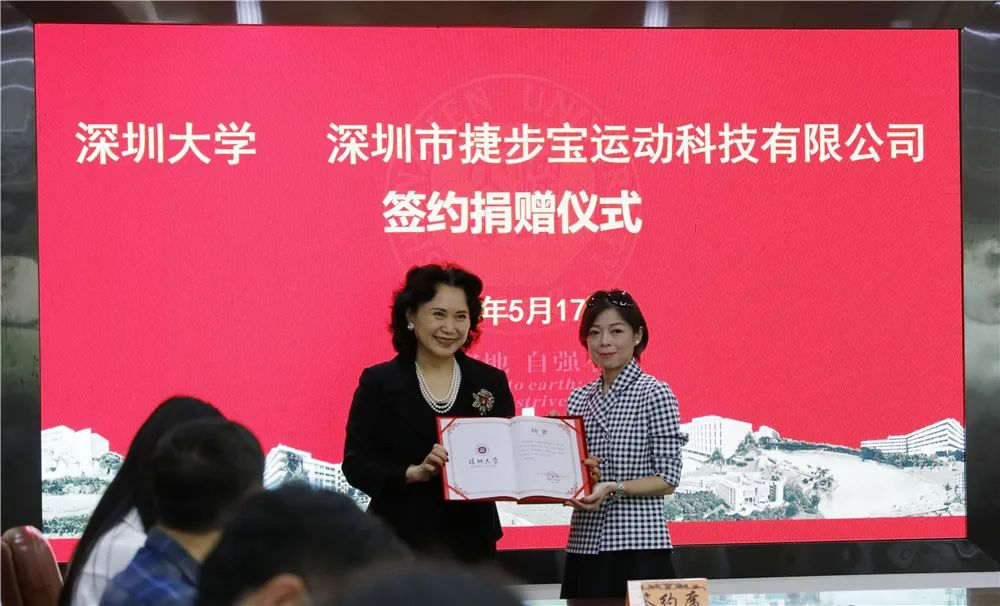 Prof. Tao Yitao awarding the letter of appointment of Honorary Professor to Chairman Liang Yingyi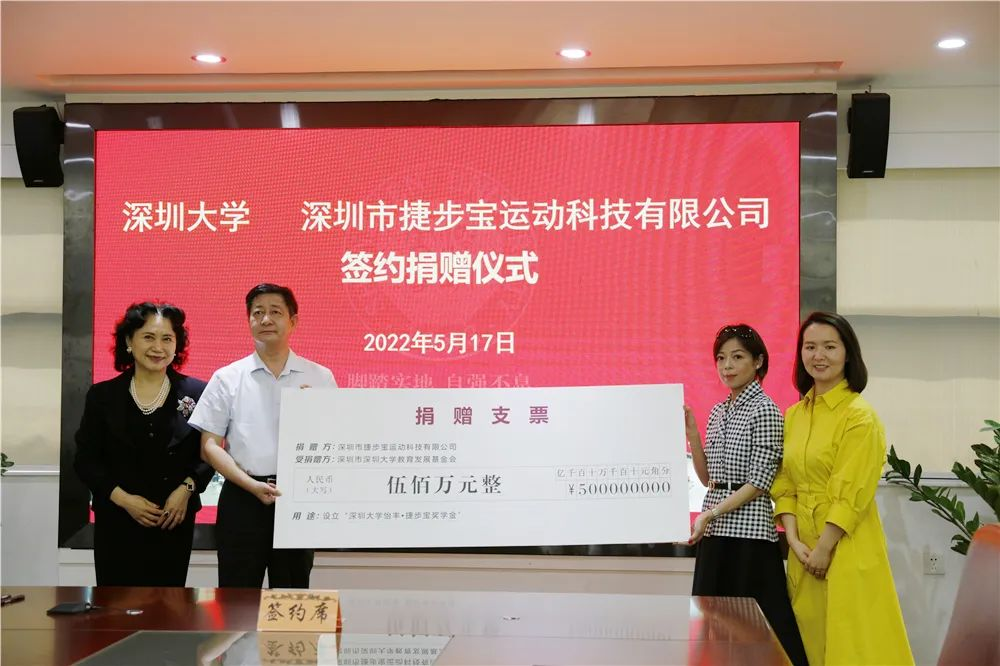 Vice President Li Yonghua accepting the check donated by Chairman Liang Yingyi on behalf of SZU

At the ceremony, Prof. Tao and Chairman Liang Yingyi inked a strategic cooperation framework agreement between Shenzhen University and Shenzhen Jiebubao Sports Technology Co., Ltd. CCSEZR awarded the letter of appointment of Honorary Professor to Chairman Liang, and Vice President Li Yonghua accepted the check on behalf of SZU.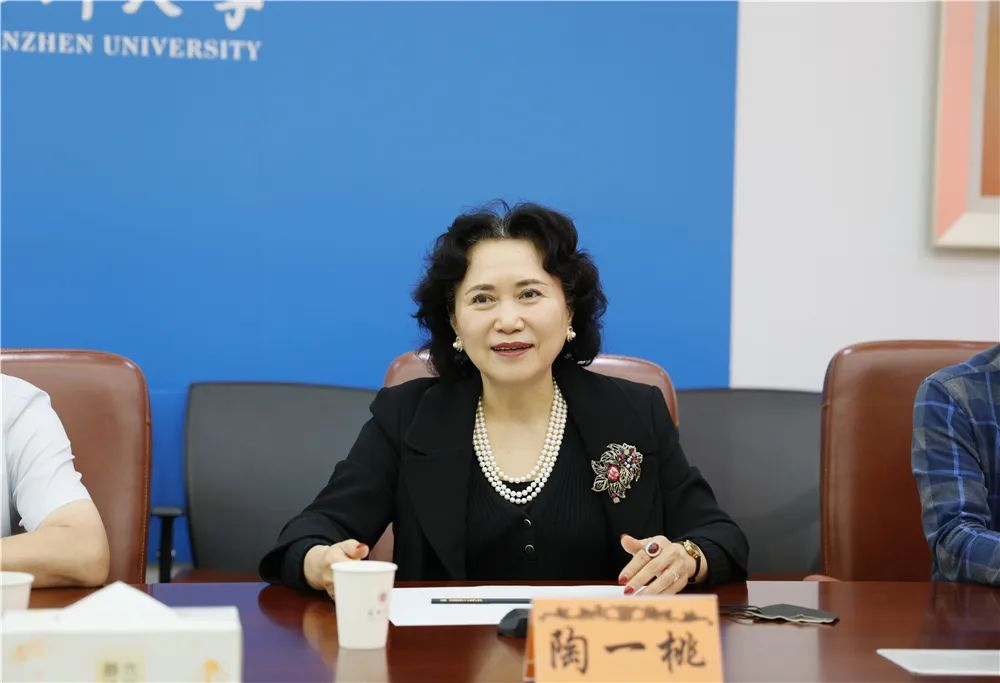 Prof. Tao delivers a speech

Professor Tao Yitao, speaking on behalf of the donation recipient, said " Yifeng-Jiebubao Scholarship is a milestone for SZU. It is the first of its kind set for high-caliber talents cultivation and academic development of graduate students in Theoretical Economics over the four decades since the founding of SZU. It not only demonstrates the public welfare sentiments of Ms. Liang Yingyi and her industrialist father Dr. Liang Linbing, but also reflects the lofty spirit of the earliest striver of China's reform and opening-up." She pointed out that as a city at the forefront of reform and opening-up, Shenzhen used to provide the whole country with replicable and instructive experience. Today, Shenzhen has transformed from exploring experience to cultivating great minds, ideologists and theorists. It is also SZU's mission in a new era to cultivate ideologists and theorists for Shenzhen and China. Prof. Tao finally emphasized that the setting of the scholarship offered financial help to students, and kept alive the great national and patriotic spirit of a Hong Kong industrialist. She encouraged graduate students in Theoretical Economics to work hard, improve themselves and serve the country with the help of scholarships.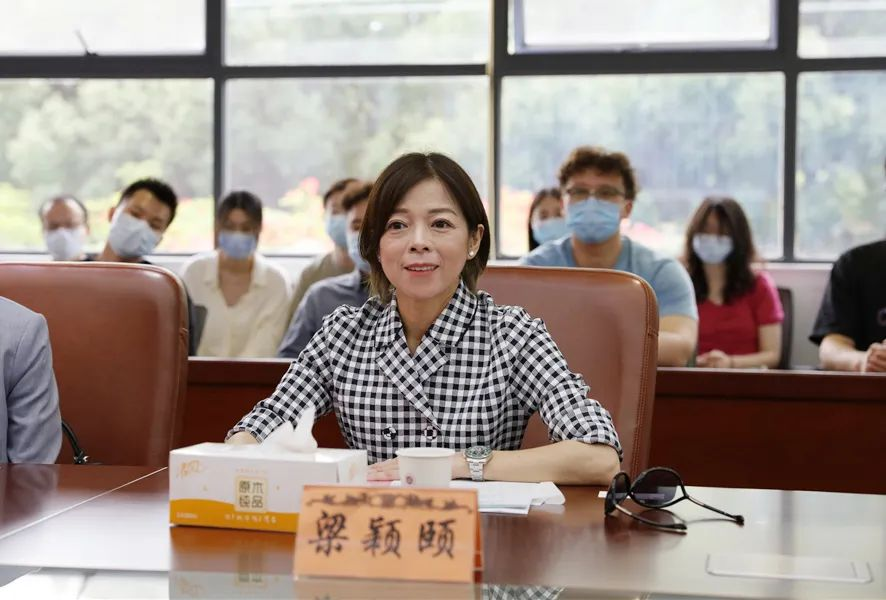 Chairman Liang Yingyi delivers a speech

Chairman Liang introduced the history of the enterprise. Yifeng Group was founded by her father in 1983, the same year when SZU was established. In order to secure safe trading goods transportation during the reform and opening-up, Yifeng Group has devoted painstaking efforts in polystyrene foam. Today, Yifeng Group has become the world's leading polystyrene foam producer after four iterations of upgrading. The high-end sports technology helmets of EGOOOD, founded by its subsidiary company Jiebubao, have been widely acclaimed once on sale. It has occupied over 20% of the international market share, and set up production and research bases in Guangzhou, Shenzhen, Dongguan and other cities. She emphasized that this donation was a concrete practice of her father's business philosophy of being people-oriented and creating wealth together with the society and giving back to the communities. She also promised a proportion of profits from Jiebubao to support their long-term cooperation with SZU.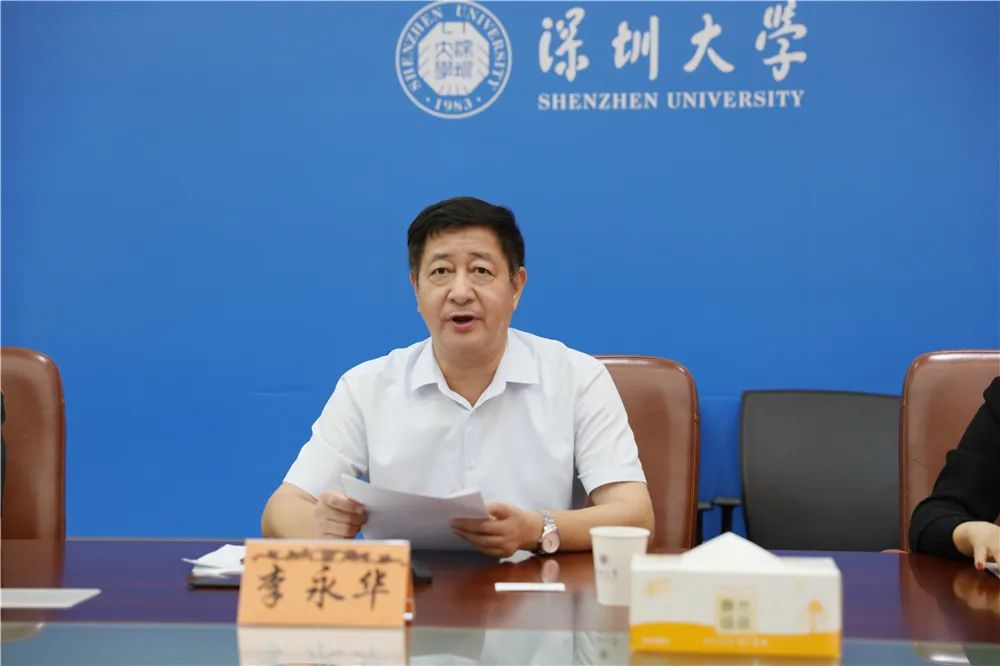 Vice President Li Yonghua delivers a speech

On behalf of SZU, Vice President Li Yonghua showed great appreciation and thanks to Chairman Liang and her company. He stressed that the scholarship donation aims at improving the quality of top-notch talent cultivation in Theoretical Economics, demonstrating great national consciousness and patriotic spirits. This cooperation will boost their in-depth engagement in exploring international markets, industry-university-research institute collaboration and talents cultivation through intellectual support. Also, this partnership will yield a win-win by developing new products in response to the market demand, drive businesses to go out, and expand the consumer market along the Belt and Road Initiative. He hoped that the strategic cooperation between the two sides would bear fruitful results, provide more encouragement and support for the top talents in Theoretical Economics to rise to greater heights and enhance their ability to serve society.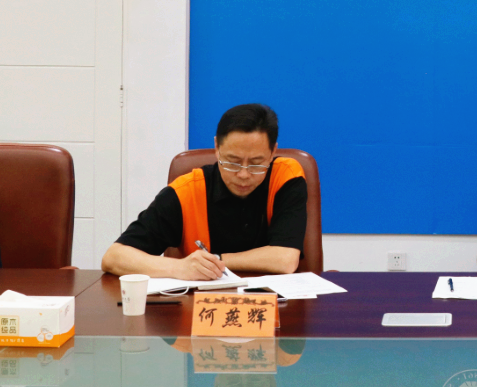 He Yanhui, Director of Alumni Liaison Department of SZU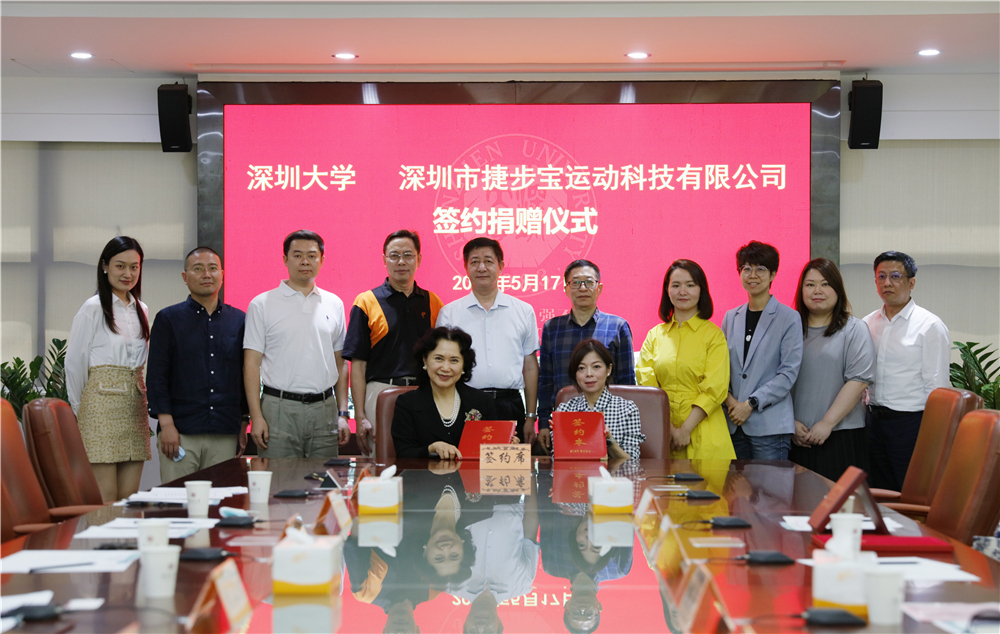 Group photo of the signing ceremony